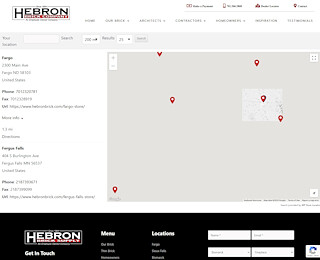 Bricks come in a variety of styles, designs and colors. Whether you are building an entire home, a patio or something in-between, you need high quality bricks from an architectural brick supply company. Architectural bricks are designed to be utilized on facades and in places that require a high quality appearance. They are available from a company that specializes in bricks including architectural brick supply.
Architectural Bricks
Bricks have been used in building construction for many years. There are many various types of bricks with the earliest use being made of mud and air-dried. Later, clay was primarily used to make bricks and they were kiln fired. Bricks are generally rectangular in shape but are available in a selection of different sizes and shapes to meet every possible need.
Bricks can be laid in a number of different patterns and are a main element in building walls and pavement. Bricks are laid in courses that alternate throughout the structure to provide strength. Brick patterns are called bonds. Bricks are secured using mortar, which is a permanent and strong cement material.  
At Hebron Brick Supply we are a full service architectural brick supply company. Our bricks are all manufactured at our state-of-the-art plant. Our clay is sourced locally so we have a lighter carbon footprint. Our bricks come in a large palette of colors, sizes and textures and we are also able to manufacture custom bricks if needed.
You can browse our color selections and collections online. Choose from whites and creams, golds and buffs, browns and tans, reds and pinks and grays and blacks. Our outstanding collections including Authentic Americana thin brick, Brick Lite thin brick, Rustics, Solids and Ironspots. You are certain to find the exact style and color brick that you need for your construction project.
Super Scotty Smart Bricks
Our Hebron exclusive "Super Scotty" smart bricks are the perfect size and shape for all of your building needs. They often require fewer cuts, less mortar and are easy to measure, making them ideal for your next building project. They come in 12 inch lengths so it is easy to calculate your needs and therefore you can reduce mistakes. They cover more area so you can save on mortar costs and on installation expenses.
Super Scotty bricks can often be used as starters without the need to resize. They offer a lot of potential for savings and provide the same strong, durable and reliable results as standard bricks. Our architectural brick supply company offers these bricks as well as a full selection of standard bricks for your convenience.
Whatever your brick needs, we are sure to have a high quality product that you can use. Find our complete selection of brick styles and designs and colors online. Our company is dedicated to providing the best bricks possible to meet every potential need. We have been producing bricks since 1904 and are the only brick manufacturer in North Dakota. When you want to create a structure that will leave a legacy, choose Hebron bricks for the construction.
Hebron Brick Supply
7012320781
2300 Main Ave, Fargo, ND 58103
View Larger Map