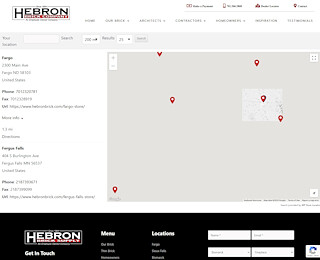 Bricks are the most durable and beautiful material that is available for construction. The use of bricks dates back many centuries, when bricks were made of mud and dried in the sun. Today the methods of making bricks has changed but they are still one of the strongest and longest lasting building materials you can choose. Count on our brick supply company to provide you with the best and most durable bricks possible.
Advantages of Brick
Brick offers many advantages over other building materials. Brick is strong and durable and provides a beautiful appearance to any building. Brick comes in a variety of colors, sizes, designs and textures so you the design possibilities are almost endless. Brick is a sturdy material that is naturally fire resistant.
Brick is ideal for both inside and outside installations. Thin brick, also known as brick veneer, can be easily utilized inside for creating walls, backsplashes and focal areas. It is lightweight so it can be used on walls. Because it is thin it requires less digging for patio installation.
You can create almost any pattern or design using bricks. Brick pavers are ideal for creating patios and driveways. Bricks are extremely weather resistant so they hold up well against the elements. Brick offers a luxurious appearance to any surface. Brick is installed using mortar that is generally like cement. It holds the bricks in place so they will not shift or move, even after years of wear.
Hebron Brick Supply Company
At Hebron Brick Supply Company we offer a wide variety of bricks from many different manufacturers. We provide the latest brick products to meet all of your building needs. Whether you are constructing a patio, driveway, walkway, landscape, fireplace or an entire dwelling, we have products to suit your needs. We also offer bricks that can be used both indoors and outdoors so you can create a rustic kitchen or outdoor fireplace.
Since 1904 Hebron Brick Supply Company has been providing high quality bricks and building materials in the Fargo area. We offer the largest selection of bricks to choose from in the entire region. Our experienced and knowledgeable staff members can help you with any project design and will assist you in choosing the materials that best fit your requirements.
Consider brick as your best and most efficient building supply option. Our brick supply company has a huge array of various types of bricks including our own Hebron brand. Our clay is locally sourced so it cuts down on the carbon footprint. We also offer our exclusive Super Scotty Smart Brick that is specifically sized to allow for fewer cuts and easier installation. There are some cost advantages to our Super Scotty bricks because you can use fewer of them in your design and the installation will require less time.
Regardless of your brick needs you can count on Hebron Brick Supply to provide you with the best options on the market. Contact us today for assistance in choosing the brick products that will make your next project outstanding.  
Hebron Brick Supply
7012320781
2300 Main Ave, Fargo, ND 58103
View Larger Map